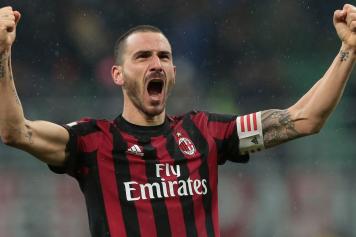 Juve and Milan will face off tomorrow in the Coppa Italia final. Ex-Juve star player Leonardo Bonucci spoke to the press in his

sbothai

pre-game conference, here is what he had to say on tomorrow's game:
" It's always fun to participate in these types of games. Milan deserve to play in these big games since we are a big squad. The important thing is to play

sbothai

like a unit which has been something that we have been doing under Rino. I can play great but if no one follows, the results won't be there. Everyone has to give it their all and like this, success follows. It would be important for us to win

sbothai

tomorrow but it won't be easy since Juve are a strong club. How to win? Well we could win if we are clinical and take the chances we get. Juve have a lot of quality and they have big time players. They won this year's league title and they haven't even been playing well which shows you the quality of some of their players".
"Buffon? I am focused on the game. Once the game ends then we will meet and talk like I will do with other of my ex-teammates too. Even if we don't play in the same team, we are still very good friends and often talk to one another. Juve? I had the opportunity to play 7 years with Juve and this is where I learned to never give up. Gattuso? He won it all as a player and I am lucky to have him as my coach. He and Allegri do have similarities. They know how to manage a locker-room and they get the best out of their players. They are also great motivators... ".